"Yes, We Drive These Cars!" Brass Era Cars
Sep 12, 2020—Apr 23, 2021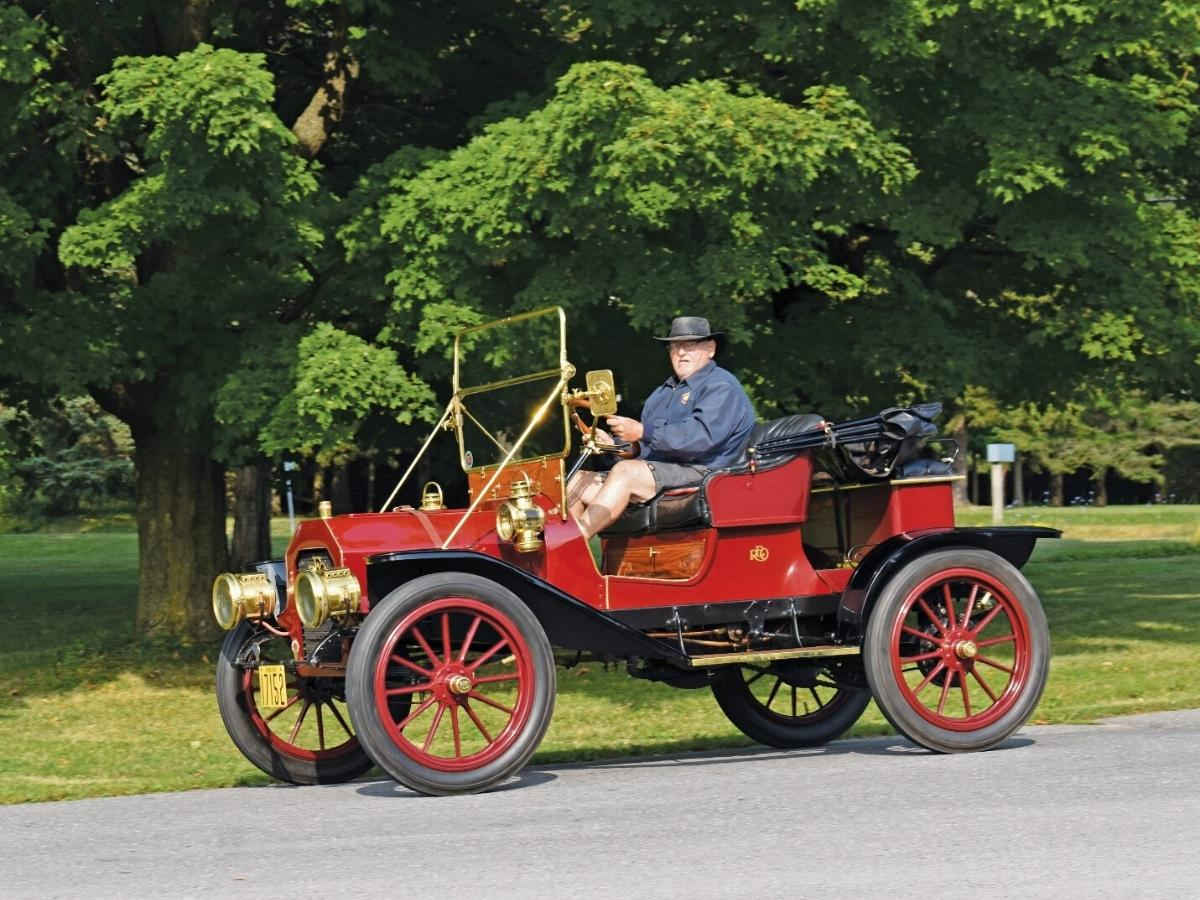 Location: Williams-Clyne Showroom
The Horseless Carriage Club of America (HCCA) exists to preserve, maintain, and document the earliest automobiles, from the inception of the horseless carriage to 1915. Central to the mission of the membership of HCCA is to maintain these vehicles in driving condition, and recapture and share the motoring experience of the dawn of the automotive age.
The exhibit is called "Yes, We Drive These Cars!" and will consist of early signage and artifacts as well as a video showing our cars on tour as well as comments by the drivers on how these cars operate and how much fun they are to drive. The three cars on display will illustrate this theme.
Display Vehicles
The 1904 one cylinder "curved dash" Oldsmobile on view was once owned by Mr. and Mrs. George Green. This car successfully traveled cross country twice from their home in Lambertville, NJ to California, touching Canada and Mexico in 1938 and then again in 1947. Mr.Green purchased this car in 1907. It is on loan courtesy of the Herb Singe Museum in Hillside, NJ.
The 1908 two-cylinder REO on display is restored and has been very actively driven on HCCA tours for many years by Art Wilkinson until 2015. It was then purchased and very often driven by the late Mike Romano who was a very active member of both HCCA and AACA until his untimely death last year. It is on loan from its current owner, namesake and Mike's nephew,  Mike Romano.
The third car is a spectacular 1911 Stevens-Duryea.  This car was found in a tobacco barn in North Carolina in 1954. Morris Kunkle and his wife Ruth, who owned the car for 50 years, restored it in 1955. The car has participated in numerous tours, including 36 Glidden Tours,7 Red Rock Tours and many Reliability Tours as well as many HCCA tours. In the summer of 2004, the vehicle was driven over 20,000 miles and performed flawlessly. It is currently part of the AACA Museum collection.
This display will be located in the Williams-Clyne Showroom gallery through October 18, 2020.  The Williams-Clyne Showroom was created as a changing exhibit space that allows the AACA Museum, Inc., to partner with automobile clubs by providing a space to exhibit their vehicles and tell their stories.