DeLorean Prototype & Production
On Loan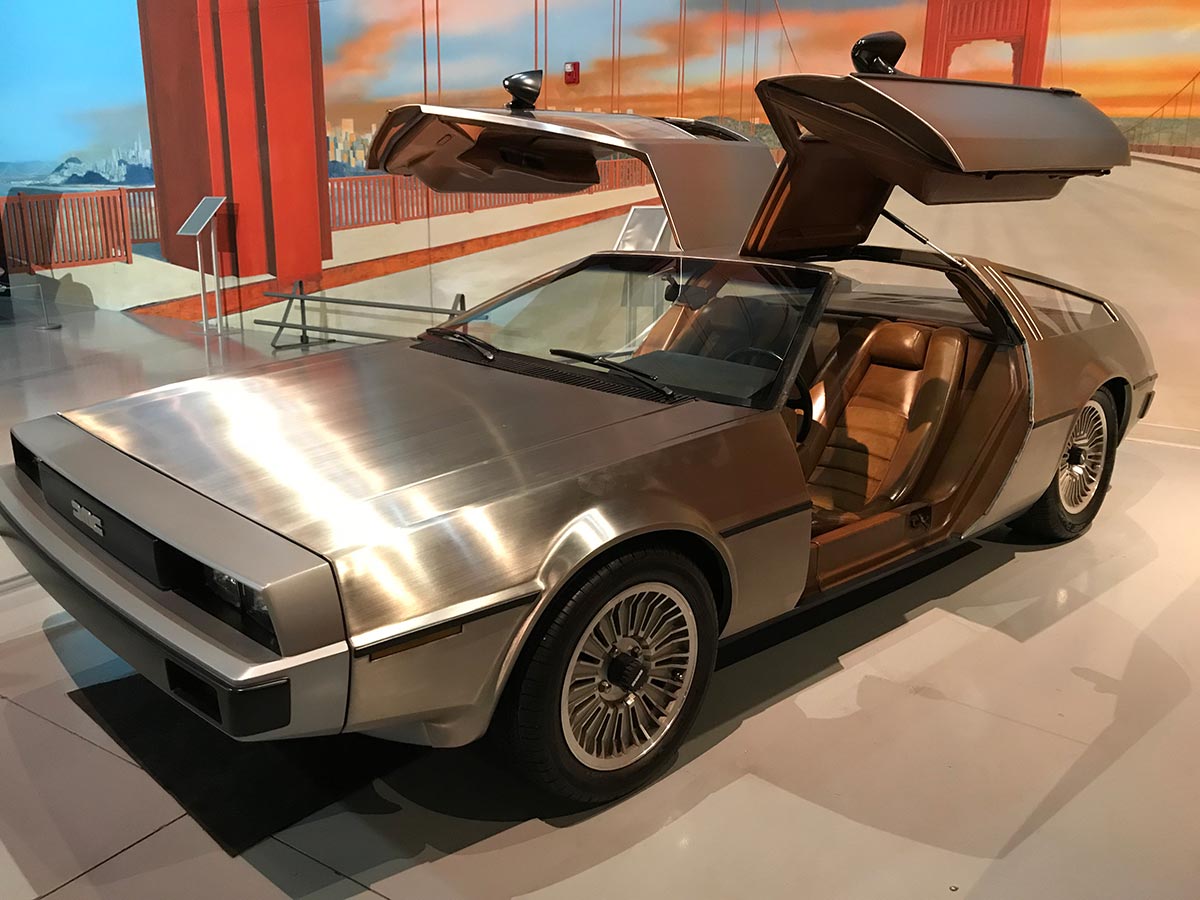 Location: Main Gallery
Two DeLorean Motor Company's (DMC) sportscars with brushed stainless steel bodies and signature gull-winged doors are on display at the Museum. The cars, along with the tumultuous life of the car's founder, John DeLorean, became the stuff of big-screen legend and documentary drama.
Knowing that $175 million was needed to develop and the motor company and build cars with futurist style, John DeLorean convinced Hollywood celebrities such as Johnny Carson and Sammy Davis, Jr. to invest in the firm. The company only produced one model over three model years (1981-1983).
The DeLorean prototype and a DMC production car, presented side by side, provide an opportunity to enjoy a double dose of these infamous automobiles. DeLorean One is the FIRST Delorean DMC-12 Prototype from 1976. The second DeLorean is a 1981 DMC-12 Coupe production model.
The Prototype DeLorean
In October 1976, the first prototype DeLorean DMC-12 was completed by American Automotive Chief Engineer William T. Collins, formerly employed at Pontiac. After much consideration, the French/Swedish PRV (Peugeot-Renault-Volvo) fuel-injected V6 engine was selected for the car. In addition, the engine location moved from the mid-engined location in the prototype to a rear-engined installation in the production car. The chassis was initially planned to be produced for a new and untested manufacturing technology known as elastic reservoir molding (ERM), which would lighten the car while presumably lowering its production costs.
The 1981 DeLorean DMC-12 Coupe
The body design of the DMC-12 was a product of Giorgetto Giugiaro of Italy Design and is paneled in brushed SS304 stainless steel.  Except for three cars plated in 24-carat gold, all DMC-12s left the factory uncovered by paint or clearcoat.  Painted DeLoreans do exist, although these were all painted after the cars were purchased from the factory.  Several hundred DMCs were produced without stainless panels, for training workers, and are referred to as "black cars" or "mules," in reference to their black fiberglass panels instead of stainless, though these were never marketed.
The DeLorean became widely know and iconic for its appearance as a modified DMC-12 that was immortalized as the DeLorean time machine in the Back to the Future franchise and the Wedding Singer movie.
The one on view is a five-speed manual transmission with approximately 500 miles on the odometer.
The vehicles are on loan to the Museum courtesy of Kenneth D. Ullman of Gulf Coast Motor Works.